BE OUTSTANDING!
THE EXAMINATION SUCCESS ROAD SHOW
Special programmes for young people, their teaches and parents-              available throughout the UK and to English speaking schools internationally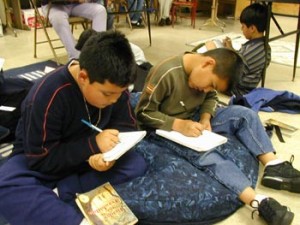 BE OUTSTANDING!                      For Primary Schools
During the day, Geoff Hannan assisted by Dweena Rigby presents his special 'Be Outstanding' training programme for Year-6 students.     In this fast-moving, fun and interactive presentation, Geoff leads the children and their teachers through a progressive series of challenges that motivate, develop confidence, and illustrate some powerful learning and memory strategies to use everyday in the classroom and in the KS2 SATs.
The presentation requires a central space to assemble everyone and use of the children's classrooms for some of the challenges.  Children take home a certificate and a notebook of ideas to share with their parents.
Then, usually during the last hour of the school day*, Geoff presents a forty-five minute talk to Y-6 (and other parents if you like) on how they can best motivate and support learning at home- lots of fun as the key strategies are illustrated and practised. (*Some schools have had this presentation in the evening rather than during the day.)
A CD Rom is provided for each participant with many activities to do at home with their children to enhance and improve learning skills. This also includes a version of Geoff Hannan's Fast Track Maths and Fast Track Writing system to help the children improve their operational skills.
After school, Geoff Hannan presents a one hour seminar to all of your staff, where he further explains the approaches and strategies and shows how they can be used in the classroom to improve student learning and especially outcomes in the Y-6 SATs.   Each teacher receives a teacher's version of Geoff Hannan's CD Rom with a wide range of resources linked into the programme and a copy of his 'Fast Track Maths'  and 'Outstanding Teaching' books on PDF with a copyright licence.
THE EXAMINATION SUCCESS ROAD SHOW  will help to improve your GCSE results!
In the last hour of your school day, Geoff Hannan presents his Examination Success Road Show to all your Year 11 students.  In this fast-moving, hilarious and interactive presentation, Geoff examines the stereotypical attitudes that present barriers to young people's success and helps to motivate the students into their learning. He also provides a series of empowering solutions to revision and a wide range of simple strategies that aid recall and responses to exam questions. Notes and resources are provided for each student on CD Rom and the school is provided with a network licence to freely reproduce them after the event. These reproducible resources include Geoff Hannan's "Learn It!"™ revision cards and his 'Examination Success Workbook' in PDF.
After school, Geoff Hannan presents a one hour seminar to all of your staff. Here Geoff further explains the ideas he has presented to the students and details other highly effective classroom activities to assist revision and recall. He also introduces his "Learn It!"™ system and revision resources.   Full notes and e-resources, including the complete system, are provided with a whole-school copyright and network licence.
The training day concludes in the evening with an optional one-hour presentation for parents.   Again in a highly entertaining way, Geoff Hannan suggests how parents of especially Y-11s can best support learning at home and introduces them to some powerful motivational theories and techniques for teenagers- lots of fun and packed with ideas to help students in the lead up to exams.   Poster masters and other publicity materials are available to advertise the event.
This event was filmed by the BBC for 'Panorama'- 'The Future is Female' and for ITV in 'It's Cool to Be a Fool'.
Please contact Dweena Rigby for availability and further details: dweena@hannans.org.uk